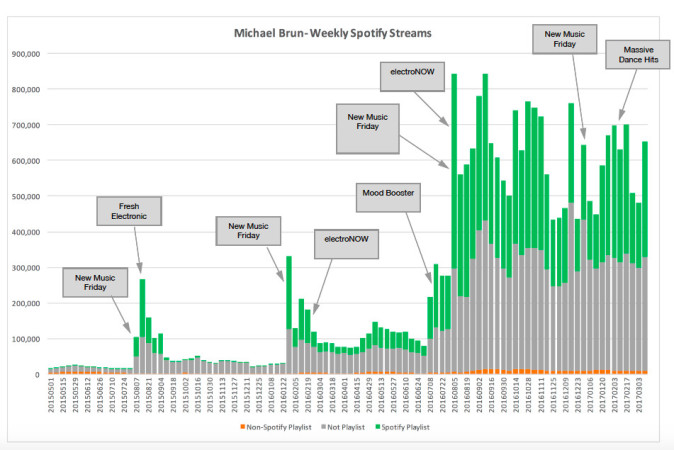 Trying to promote music online through Spotify to no avail?
Playlists are the key to your streaming success.
There are two types of playlists that are found on Spotify. On one hand you will see user generated playlists. Individual users create these playlists for different genres and moods. On the other hand lie the Spotify curators playlists. These are created by an editorial team that Spotify employs. Take a look at how Spotify determines their Discover Weekly playlists.
Getting your music featured on enough user generated playlists is a great way to get your music noticed by Spotify! According to recent RECODE article, "Spotify has more than than two billion playlists, most of them created by Spotify's users. But the service also features a handful of prominently featured playlists, which can help lift a song, and the artist behind it, from obscurity."
This is what being on a big-deal Spotify playlist looks like, in chart form: Here's performance data for five independent artists — Guordan Banks, Michael Brun, Elohim, R3hab and Verite — after getting a push from Spotify playlists like "New Music Friday."These artists generally see a boost of 50 percent to 100 percent once they get on Spotify-sponsored playlists; even after those spikes wear off, the artists often see a 20 percent increase in their streams.